UAE's best universities: Amity University Dubai
April 21, 2022 | Daniel Bardsley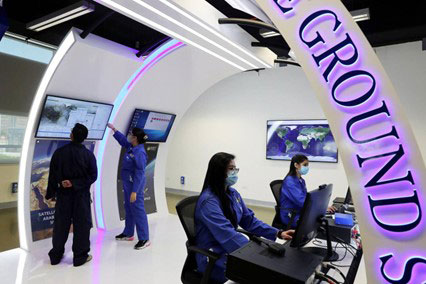 As thousands of final-year pupils in the UAE submit their applications to local universities, we take a look at some of the best higher education options in the Emirates and what they have to offer
Where is it from?
Noida (or New Okhla Industrial Development Authority), a planned city in the northern Indian state of Uttar Pradesh. Noida has been described as India's greenest city.
When was it founded?
2003 (parent university); 2011 (Dubai campus)
What is it?
Amity University Dubai describes itself as the largest multidisciplinary university in the UAE. The parent institution's original campus is in Noida, but there are now nearly a dozen campuses in India, as well as campuses in London and Singapore. In India, Amity also operates preschools and schools, and internationally it has schools, too, including one in Abu Dhabi.
Where is it based?
Dubai International Academic City
How has it handled the Covid-19 pandemic?
"Our 700,000 square foot campus is equipped with the facilities and space to accommodate students and staff, while adhering to the social distancing norms," the university said in a statement.
"The university campus reopened on January 10, and to provide a safe, healthy and interactive environment for students, we have initiated several easy-to-follow regulations that students will be required to adhere to. We are working on alternate academic schedules and class structures for every programme, to take into account the increase in Covid-19 cases.
"Flipped classes and digital learning will also continue to accommodate students with any health concerns. We are determined to ensure that every student's university experience includes social interactions, events and practical course work in a safe and secure environment. We will overcome this together."
What are examples of the fees?
Dh30,000 — Foundation Programme (one year)
Dh30,000 — English Enhancement Programme (one year)
Dh126,000 — Bachelor of Arts in Applied Psychology (three years)
Dh200,000 — Bachelor of Technology in Electronics and Electrical Engineering (four years)
Dh90,000 — Master of Business Administration (two years)
Dh17,000 — Postgraduate Diploma in Cyber Security (one year)
Dh150,000 to Dh300,000 — Doctor of Philosophy in Engineering (three to five years)
What subjects does it teach?
Bachelor's degrees include animation, applied psychology, architecture, business administration (sub-disciplines), commerce, computer science and engineering, economics, engineering (sub-disciplines), fashion design, film and television production, forensic science, hotel management, information technology, interior design, journalism and mass communication, law, mechatronics, nanotechnology, solar and alternate energy, and tourism administration.
Master's degrees include applied psychology, business administration, forensic science and interior design.
Doctoral degrees include engineering, forensic sciences and management.
What does it not teach?
Agriculture, anthropology, archaeology, biochemistry, criminology, dentistry, geology, history, mathematics, medicine, modern languages, music, philosophy, politics, sociology, sports science and veterinary medicine.
Where is it ranked globally?
1001st+ — QS World University Rankings (parent university)
1001st+ — Times Higher Education World University Rankings (parent university)
Who goes there?
There are more than 2,500 students, with the top three nationalities being Indian, Emirati and Chinese.
Who has gone to the parent university?
Rahul Ahuja, a food blogger and entrepreneur who took Bachelor's and Master's degrees in social work.
Kratika Sengar, an Indian actress who graduated in mass communication and has starred in many Hindi-language television programmes.
Kulpreet Yadav, an Indian novelist who studied mass communication and journalism. He was an officer in the Indian Navy and has also acted and written scripts.
A word from Dr Vajahat Hussain, chief executive of Amity Education Group ME:
At Amity University Dubai, our goal is to bring about positive change, empower communities and make the world a better place.
Through immersive real-world projects, informative workshops, networking events and placement activities, students of Amity Dubai reach their complete learning potential during the course of their programme.
Whether it is through mock trials in a moot court, creating a collection for a fashion show, building a solar-powered house, developing a start-up business idea or working on a satellite ground station, new programmes and projects are constantly introduced to ensure that students are ready to tackle the world.
Our solar-powered 700,000 square foot university campus is designed to inspire students to become innovators. From innovative programmes such as mechatronics, data science, machine learning, nanotechnology, aerospace engineering, animation and forensic science to traditional courses like business, law, fashion design, journalism and mass communication, mechanical engineering and applied psychology — the university's 47 full-time and part-time programmes focus on developing professional skills, practical understanding and theoretical knowledge in a variety of areas.
An interactive, on-campus learning experience plays a large role in ensuring that students feel a sense of normality in 2022, preparing students for the future of industries, teaching them to adapt to new environments and evolving global practices.
https://www.thenationalnews.com/uae/education/2022/04/21/uaes-best-universities-amity-university-dubai/