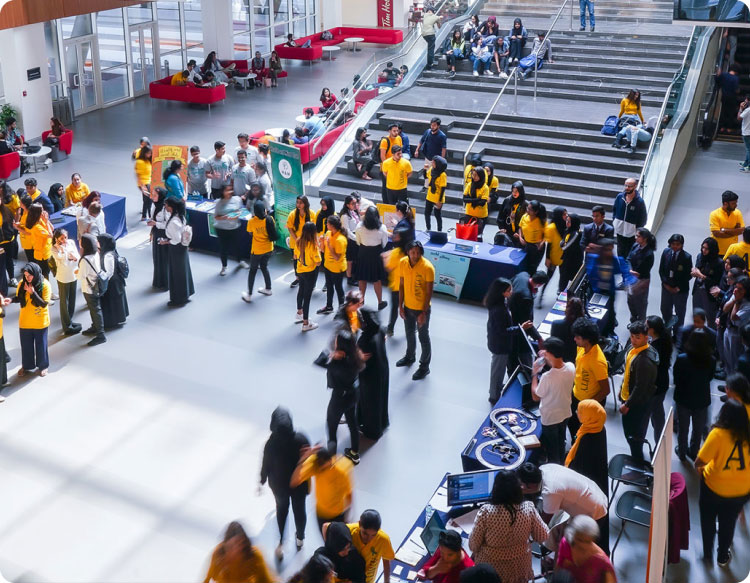 Welcome to Amity University Dubai
Established in 2011, Amity University Dubai is the premier international university in the region, and is licensed by the UAE Ministry of Education (MOE) and the Knowledge and Human Development Authority (KHDA) in the UAE, with degrees accredited by the MOE through the Commission for Academic Accreditation (CAA).

Join us today and visit our award-winning, 700,000 sqft campus with world-class facilities and state-of-the-art laboratories. Become part of our 2,500-strong student body from 70 nationalities and join a global network of 120,000 alumni.

At Amity University Dubai, we will help you reach your future career path.
Degrees
Choose from more than 30 Bachelor's and Master's degrees in fields such as business, engineering, computer science, journalism, fashion design, hospitality & tourism, forensic science, architecture, media and law.
Career Paths
Our degrees give you the best chance of securing employment in a relevant industry after graduation. Choose from one of the 40 in-demand careers below and see which degrees will best suit your career path and explore the degrees that can get you there.
Choose your career path
Student Success Stories
Aerospace Engineering Student Wins National Award in International Astronomy and Astrophysics Competition 2023

Fawzan Mohamed Kareem Navaz, a talented second-year Aerospace Engineering student at Amity University Dubai, has received the National Award and Gold Honour in the International Astronomy and Astrophysics Competition 2023.

Read more

My life as a Business student at Amity University Dubai

Choosing a career in business has always been my goal, and as I neared the end of my schooling, my passion for accountancy grew immensely. That is why I decided to pursue a Bachelor of Commerce in Accounting at Amity University Dubai. What made this choice even more appealing was receiving a 100% scholarship for my first year. It was a dream come true, propelling me further along my chosen career path.

Read more
17 Dec 2023